Hey, since we can't invite you to visit us in person, we invite you to visit us virtually!
Be our guest, read more below on what you can expect on a visit to our corporate headquarters. . .
---
Take a tour around the outside of our very large company headquarters; based in Conklin, NY USA:
---
Inside this impressive facility you'll find . . . 

the people that create and support the technology that drives the electronics industry forward.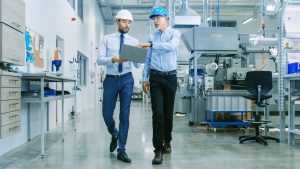 ---
Follow along, as we take a tour of our facility:
At our main entrance, you'll find the Donald J. Ahearn Technology Center, which houses over 150+ Engineers dedicated to doing research & development on our new product releases, as well as sustaining engineering on our current products.
Here you'll run into our patent wall which features just 100,  of the  350+ global patents we hold.
Make sure you check my site our very 1st product, which was Industrial Safety Pins marketed under the brand name of Nu-Hed.  It was our expertise at bending and shaping metal that led us into the electronics industry.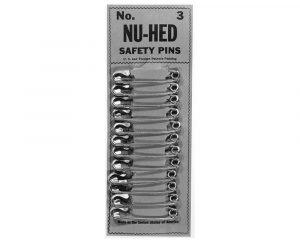 ---
Continuing into the Engineering Wing…. You'll get the opportunity to meet some of our very talented engineering team members who come from diverse and varied backgrounds – some with 20+ years of experience in their disciplines, and some from our local universities; including Binghamton University and Rochester Institute of Technology, to name a few.  What types of engineers do we have on our team?  We have engineers that specialize in Mechanical, Electrical, Software, Systems, Quality & Reliability, and more. . .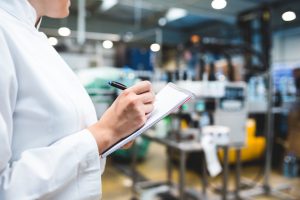 One of our core tenants is to get quality solutions into our customers hands as quickly as possible. To accomplish this we utilize 3D printing technology using a Fortis 400 3D printer (which can be seen on your tour of the Engineering Wing). This allows our team to 3D print and test prototypes (sometimes within a few hours) to deliver solutions to our customers problems, as well as continue down the R & D path.   
How does 3D Printing Work?
A 3D CAD model or 3D digital file from a scanner is processed and sliced into hundreds of thousands of layers. These layers may be as thin as 15um (think width of a strand of human hair or even smaller, object dependent). When this prepared file is uploaded to the 3D printer, the printer recreates the object layer by layer, as a series of two-dimensional images, growing the part.
Check out a video of our 3D printer below in action:
---
At the back of our Engineering wing, you'll find our history wall.  Here you can learn about Universal's impressive history of more than 100 years in business, along with our technology partnership with IBM –  which led us into the electronics industry in the 1950s.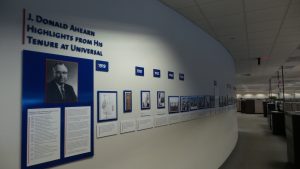 ---
Just down the main hall, you'll find our global training center featuring several modern classrooms, where our customer (students) can learn both from teacher instruction, as well as by interacting directly with our machines in the training center's dedicated equipment room, which includes:  Surface Mount, Insertion Mount, Advanced Packaging, Automation equipment and more. . . 
Also on your tour, you'll get to meet our friendly and talented group of instructors: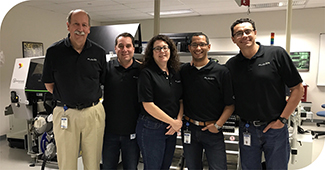 ---
Continuing down our main hallway, and you'll find our world class Demo Room: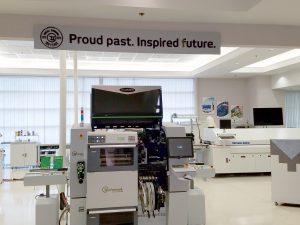 With an impressive installed base of:
Full SMT line; including Oven, Solder Paste Inspection machine, FuzionOF (Pick & Place), Automated Optical Inspection machine and more . .

Stand-alone high-capacity, multi-function line including our flagship FuzionXC2-37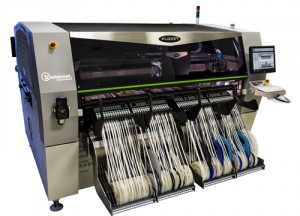 Stand-alone automation and odd-form line, featuring our Uflex flexible automation platform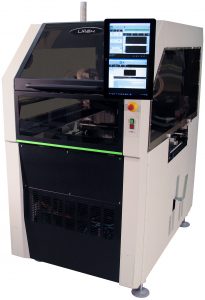 Come for a visit, send us your boards and parts in advance, and we'll show you how to build your board better.   During your visit, you can expect to see a LIVE demo on the technology platform of your choice,  and 1:1 personal time with our product team experts (who are all located in this building)!
---
Just off our demo room, is the entrance to our state-of-the-art manufacturing facility which includes over 60,000 square feet of manufacturing space. 
What do we manufacture here?  We manufacture the full range of our product lines including:  Surface Mount, Insertion Mount, Advanced Packaging, Automation, as well as machine peripherals such as feeder carts, accessories, and more. . .  

We also have a Broome Engineering division which specializes in the remanufacturing our equipment for the second-user market.

Take a virtual tour of our manufacturing floor:
What goes into the build process?  Well, a lot (and too much to cover here) but here's a few steps:
Frames, shell and sub-assemblies are brought together by master craftsman builders

Heads, cameras, clinches and other sub-assemblies are built at specialized stations on the floor, inspected for quality assurance and then integrated

Cover package is installed, and software is loaded,  and then the machine undergoes a rigorous testing process (which takes several days to complete) before being sent to shipping.At times, we do US package forward to Canada.
This process operates like a well-oiled machine (pardon the pun)! You should come for a real tour and see exactly what it takes to build our technology from start-to-finish.
---
Also on our floor, you'll find a semi-automated 20,000 square foot spare parts hub –  otherwise known as WPSD (World Wide Spare Parts Division) where we keep a very large number of parts on hand.  Parts orders are processed either via phone, or on line and are then automatically delivered to the parts team members for fulfillment and shipping – think mini Amazon warehouse and you'll get the idea.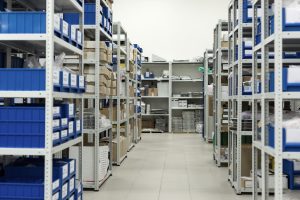 ---
At the back of our facility, you'll find our shipping and receiving departments with a capacity of eight loading and unloading docks – now that's a lot of trucks in/out at once!   These important departments manage and track all of the inventory coming into our factory,  and the logistics and compliance requirements for shipping our machines, spares, etc. to our customers all across the globe.   
Here's a video of one of our machines going through the shipping and crating process. 
---
At the farthest end of our building, you'll find our world-renowned Advanced Process Lab (yes it's a real lab).

The APL consists of a series of research and electronics manufacturing development labs, complete with a large variety of scientific equipment, and staffed with a team of around 20 people, many at Ph.D. levels.  These team members conduct research, and work on analytical and advanced assembly services.
Here are some of the tools you can expect to see during the tour:

A few of the types of services offered by the  lab include:

P

rocess and Equipment Optimization

Reliability Testing (mechanical, environmental, vibration, shock)

Failure Analysis

New Product Introduction and Support

Small lot prototypes to Ramp-to-volume SMT/PCBA Assembly
Plus much more. . .
The APL also plays a leading role in the greater electronics community, organizing research consortia, and building partnerships with academic (like our local Binghamton University) and industry experts to identify and develop new and emerging technologies.
Come visit the APL and you'll be amazed at everything they have to offer! 
---
Coming out of the APL, you'll run into our cafeteria, where you could stop along the tour for a Spiedie Sandwich.

What's a Spiedie you ask?  Well it's cut up meat of your choice (chicken, beef, etc.) that's marinated in a variety of spices that are only grown in Upstate, NY – just kidding.
The meat is marinated in Spiedie sauce overnight and then grilled and eaten on a soft roll, sometimes with butter.  There are many brands of Spiedie sauce on the market. Our local brands are Salamida's State Fair Spiedie Sauce and Lupo's, respectively.
Hungry for a Spiedie, here's a recipe for you:
Come for a visit and request a Spiedie lunch special, and we'll be happy to oblige.
---
Also in our building (but not necessarily on our tour) are the rest of the departments that keep this place running like clock work, including: 

Sales, Marketing, Technical Support, Purchasing, Finance, Quality,  IT and the balance of our Executive team.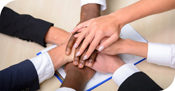 ---
When all of this craziness is over, come for a visit!  We'd love the opportunity to show you around our U-niverse!