Innovation in Electronics Assembly
Build better. Build more. Spend less.
THIS IS US
At Universal, we strive to build upon our proud heritage of engineering and disruptive innovation to drive the future of the electronics industry, and to deliver products that inspire our customers to build better!  
We are a technology leader in the design and manufacture of precision automation solutions for the semiconductor and electronics manufacturing industry. With a lineage of more than 100 years, we are the longest-standing electronics assembly company. Our technology solutions are truly universal and span the range of assembly applications- from lighting to automotive, medical, computing, entertainment, mobility, industrial and more.
We employ a highly technical workforce of ~ 500 employees. This expertise and passion to develop innovative solutions to solve our customer's problems drive our 500+ strong patent portfolio. With 27,000+ systems delivered to date, we offer the broadest range of world-class equipment and services. We also enjoy strategic partnerships with today's industry leaders, which enables us to stay on the leading edge of technology trends and to deliver the best solutions for the production of a wide variety of the most complex electronic circuits in the World.
We offer solutions for a wide range of high-precision assembly needs, including Precision Automation for applications requiring versatile, high-accuracy, high-speed handling, inspection, and assembly. Advanced Packaging for applications requiring efficient and versatile multi-die high-accuracy assembly. Traditional to Complex Printed Circuit Board Assembly for applications requiring high-speed, high-accuracy surface mount placement and through-hole component insertion. Our cutting-edge smart manufacturing software provides real-time data to help manufacturers improve their overall operations. And, our world-renowned Advanced Process Lab (APL) offers solutions for all aspects of a product lifecycle- from prototyping, process development, and analytical services to advanced technology assembly.
We are committed to creating the most innovative solutions for all aspects of electronics assembly; enabling our customers to maximize their return on investment across their entire product lifecycle.
INNOVATING FOR OVER A CENTURY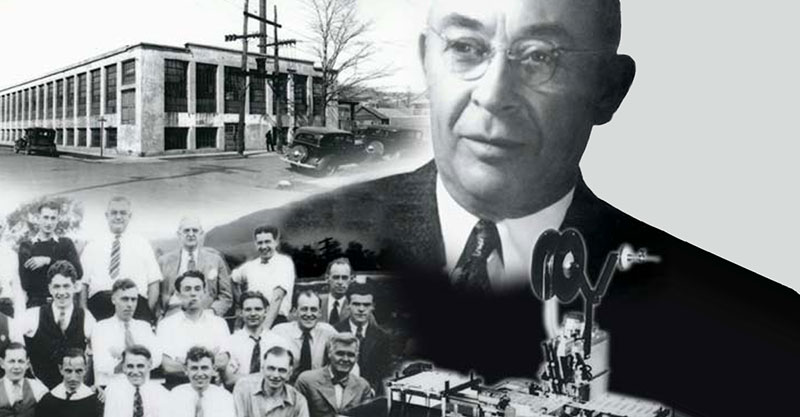 Universal Instruments traces its roots to the Universal Instruments and Metal Company, a safety pin manufacturer founded in 1919. Through time, the company discontinued safety pin production and made a transition to a machining and tool and die business. By controlling costs during the Great Depression, Universal Instruments continued to grow through World War II, when the company's tool and die talents were pressed to meet the needs of the state's small arms manufacturers. This work continued until the 1950s, when Universal Instruments entered the electronics assembly equipment manufacturing industry.
Universal Instruments first built electronic circuit assembly equipment for through-hole components in the 1960s. For nearly three decades Universal Instruments flourishes by the production of axial, radial, and DIP insertion equipment. In 1993 Universal Instruments acquired Dynapert through-hole assembly machine business that opened the Southeast Asian markets. Enhancements in the through-hole world continue to this day, and Universal Instruments holds nearly half of the global through-hole market.
The global electronics industry burgeoned with the transition from through-hole to surface mount components. In the early 1990′s Universal Instruments developed a modular platform-based surface mount technology machine – the GSM Platform. With an installed base of over five thousand machines, Universal's GSM quickly became the industry standard in the flexible fine pitch arena.
Today, Universal's core products include a comprehensive surface mount platform portfolio delivering best-in-class performance and value for any budget or production environment; leading-edge advanced semiconductor packaging solutions for a fast-evolving technology landscape; a through-hole lineup that is the industry standard for productivity and reliability; flexible automation cells for odd-form or light mechanical and back-end assembly; line software to manage manufacturing activities and deliver true control over manufacturing profitability; and industry-leading support and services worldwide to help our customers build better, build more, and spend less.
driven to achieve
Universal's senior management team possesses rich and diverse industry knowledge and experience coming from leading positions at some of the World's leading companies. Its mission is to deliver an unprecedented level of commitment and value to our customers. Read more about our impressive team below.
READ BIO
Jean-Luc Pelissier was appointed CEO of Universal Instruments Corporation – a global leader in electronics assembly technology – in October 2007. He has a proven executive management history and decades of experience driving sales growth in the technology sector. Previously, Pelissier was president of NPTest, managing the development and sales of semiconductor test equipment platforms until the company's acquisition by Credence.
With demonstrated success in the electronics, semiconductor and semiconductor equipment markets, Pelissier has extensive international experience managing customer relationships, manufacturing, product development, sales, support and professional service organizations across the technology world (Europe, US, Japan, Korea and Asia mostly). Pelissier has a successful track record managing large international organizations, as well as building start-up businesses.
Prior to NPTest, Pelissier spent 15 years with Schlumberger in various assignments ranging from marketing, sales and business development to manufacturing, service and general management. He served as president and chairman of the board of High Connection Density, a memory module company, and started a consulting, test and product engineering service practice for the semiconductor industry called SABER. Pelissier started his career in engineering, working with companies such as Thomson, Elf Aquitaine and IBM.
Pelissier holds a Ph.D. in electronics, circuits, and systems and two engineering degrees in electrical engineering, computer-aided design and automation, from the University of Science and Techniques du Languedoc in Montpellier, France.
READ BIO
Robert B. Mahoney joined the CBA group as Chief Financial Officer in July of 2019. He comes to CBA with extensive experience in technology as well as public and private company governance.
Mahoney's career started in the semiconductor world where he worked his way into senior positions at Texas Instruments and National Semiconductor. He spent large amounts of time offshore restructuring and streamlining operations during the typical boom and bust cycles of the industry. Ultimately reaching the position of Corporate Controller at National Semiconductor, he was a key contributor to National's turnaround. He then joined a passive component manufacturer, Molex Inc., in Chicago, as CFO. Eight years as CFO were then followed by five years outside of the financial function, where he was charged with running the $1B Asian operations.
The last ten years have been private equity positions which included a public offering of an Apollo portfolio company and the positioning and ultimate sale of numerous mid-market companies.
Mahoney brings a wealth of knowledge in technology, global operations, M&A and governance. Cost and Supply Chain are two particular areas of expertise, along with the products themselves.
Mahoney graduated from the University of Virginia with a degree in Economics and has his MBA from the University of Michigan. He is married and has five children.
READ BIO
Glenn Farris VP, Strategic Marketing develops the company's global marketing strategy, drives marketing and branding awareness, defines marketing objectives, and identifies market trends and customer requirements.
In his 30+ year career in the electronics industry, Glenn has transitioned from being a research engineer at NASA to leading marketing organizations for multiple technology companies. Experienced in advanced simulation technology, semiconductor test and measurement, enterprise hardware and software platforms, and nanoscale MEMS applications, and dealing with clients in consumer, automotive, medical, networking industries, he has a broad vision of market trends and deep understanding of technology challenges.
Glenn holds an MBA in Marketing and Finance from Santa Clara University, M.S. in Engineering from Stanford University and a B.S. in Engineering from Purdue University.
READ BIO
Joe Mott, CHRO directs all functions of our global human resources department. He supervises and provides consultation to our management team on strategic staffing plans, such as: compensation, benefits, training and personnel development, etc. Throughout his career, Joe has demonstrated exceptional ability as an agent of change and a strategic business partner, helping companies to scale, grow and globalize.
His background includes many years of providing human resources solutions for L-3 Vertex Logistics Solutions and SOS International Ltd. both companies specializing in aerospace, aviation and defense industries for the US Government and which brought him to countries including Iraq, Afghanistan, Kuwait, Dubai, and Columbia.
Joe is an innovative and resourceful professional with extensive HR management experience and expertise in labor relations, policy, procedure, and best practice implementation. Joe holds a Bachelor's of Applied Science (B.A.Sc) in Human Resources Management and Services from SUNY, Oswego, as well as the following certifications: DDI Certified Trainer, OZ Principle of Accountability Certified Trainer.
READ BIO
Brad Bennett, VP Business Unit General Manager manages and directs the sales process execution for PCBA (Printed Circuit Board Assembly) and solutions business. He is responsible for market and application execution, RFQ (Request for Quote) and DFM (Design for Manufacturability) prioritization and execution.
Brad has held various management roles with increasing degrees of responsibility at Universal. For the past 15 years he was VP, Global Sales and led the global sales organization and all in-region technical and administrative support functions. He was responsible for profitable growth of 6 geographic areas of operation with diverse product line objectives, each utilizing a combination of resources aligned as a multi-tier team.
Brad is a results driven sales strategist with more than 25 years of driving profitable revenue growth and securing new customer penetrations in highly competitive capital goods markets. He holds a BSIE in Industrial Engineering from Purdue University.
READ BIO
As Vice President of Engineering, Phil is responsible for leading our global engineering organization which brings life to our new product and technology offerings across all of Universal's products lines.
Phil joined us in 2000 and has held several leadership positions of increasing responsibility while remaining closely tied to technology.
He started his career at Universal as an entry level engineer and quickly advanced into a lead engineer role.  In 2005 he moved to Shekou China to manage a cross functional team of engineers all while continuing to pursue his graduate degree.  Upon his return he became a Technical Manager and Project Manager where he guided the development programs for many of the products in Universal's product portfolio.  In 2017, Phil was promoted to Engineering Product Manager for Uflex and Automation solutions delivering custom solutions across to our global customer base.  In 2020, he was named Director of Platform Engineering responsible for all hardware development, and then in 2021, he has taken the reigns to lead the entire engineering organization.
Phil holds a BSME from Clarkson University and a MSME from Binghamton University.
Phil has a proven track record of delivering market dominating products and solutions to our customers through the application of strong leadership skills rooted in technology and program management.
READ BIO
Ameet Ravetkar was named Vice President, Global Services in January 2020. He directs our World-Wide Global Services team, ensures customer satisfaction, manages our field engineering teams, establishes and delivers service products and provides oversight to our world-wide spare parts and training divisions.
Ameet spent the past 17 years at Dell in various senior management roles. For the last four years he was the Global Director of Services driving the $1B account management services business; enabled 8 new services, expanded markets, grew revenue by $73M, improved productivity from 69 to 82% and increased customer experience to 95%.
He has extensive experience in global leadership, management, strategy, planning and execution and management of local, regional and global teams. He holds an MBA from the University of Texas and a M.S. in Industrial Engineering from Georgia Institute of Technology.