Small, Medium. . . XXL?  No matter what your size, we've got you covered.
Read more below to learn about how our component placement technology can handle everything from the smallest to the longest to the tallest components with ease (and with accuracy and speed).
---
This is a representation  below of a 01005 component (0.016″ x 0.08″) – last component on the right.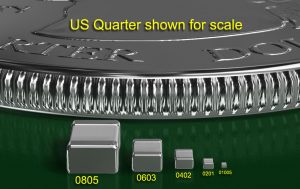 ---
It's about this size of a grain of sand and a teaspoon full holds greater than 200,000 of these small components. 
Our single-beam Fuzion platform, featuring our revolutionary Lightning Head, can place these components at a mind-blowing speed of 30,000 components per hour.  
Watch the video below to see our Fuzion platform "paint the board" with these components: 
---
These are DDR4 DIMM connectors, otherwise know as memory modules.  The size is about the length of the distance between your thumb and index finder if you could stretch them fully parallel. They are used for computer memory and storage.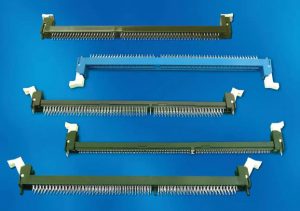 ---
These connectors have very tiny, very delicate, tightly packed pins (about 288 pins per module) that need to be accurately inserted directly into pre-drilled  holes on the board. This technology is called pin-through-hole (PTH) – think a pin going through a hole and you get the idea.   
A large-format server board will require many 1,000s of these connections, and will typically have both press fit (component is pressed directly into the board to make the electrical connection with no solder paste required) and PTH components with very tight pitch tolerances. Our FuzionOF platform – with its superior vision system- can inspect 100 % of the pins, including the both inner and outer pin arrays  before they are placed.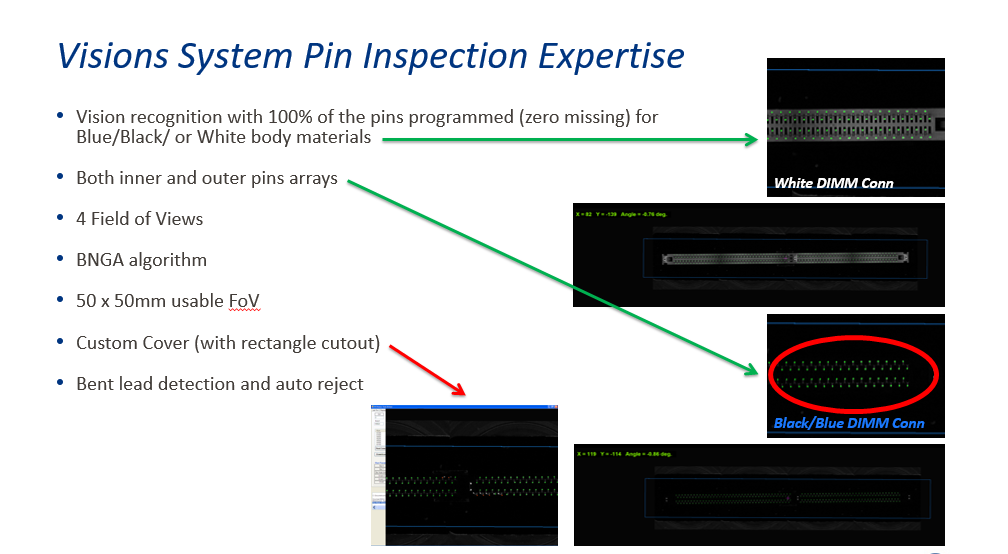 This pre-inspection provides the means for very accurate and high-speed placement of DIMM connectors, and why our equipment is a favorite of today's server board manufacturers! 
---
This is a Radial Capacitor. Its dimensions are about 2"  in length  x 2" in width- or roughly the size of a two-fingered Kit Kat bar – and 1.7" in height.


The thing that's challenging about this is (you guessed it). . . the height.  Well, our Uflex platform, because of its unique design featuring an unencumbered work surface area,  and pneumatic grippers which are capable of picking up components weighing over 1 lb (0.45 kg), can easily pick up and place this very tall component with ease.  
In fact in the video below, the placement head actually jumps over the top of another very tall component to place this capacitor on the board.  Try doing that with your typical pick & place machine. . .
Due to the flexible nature of this platform, it can populate a wide range of components – from a variety of feeding sources; including large substrate handling up to 630mm x 500mm. ƒThis platform can also be easily reconfigured to handle a variety of manufacturing tasks, including: dispense, label placement, screw driving and more. . .
---


What size component do you need to place?  No matter what the size or shape, we've got you,  and the board covered!
---