September 24, 2014 – The latest-generation LEDs are a full-time obsession for our custom tooling experts. Not too long ago, we might receive a few LED nozzles and tooling requests each year… now, we receive hundreds.
The advancement of LED technology has brought forth process issues like LED's sticking to the carrier tape/tape pocket, sticking to the mylar after advancement of the feeder, sticking to the nozzle after placement and negative effects of increased temperature, etc. Our team at Universal Instruments has developed a series of robust solutions, including Pick & Place Nozzle, LED Feeder, PCB Board Support and LED Special Software, so you can get the performance you expect and deserve.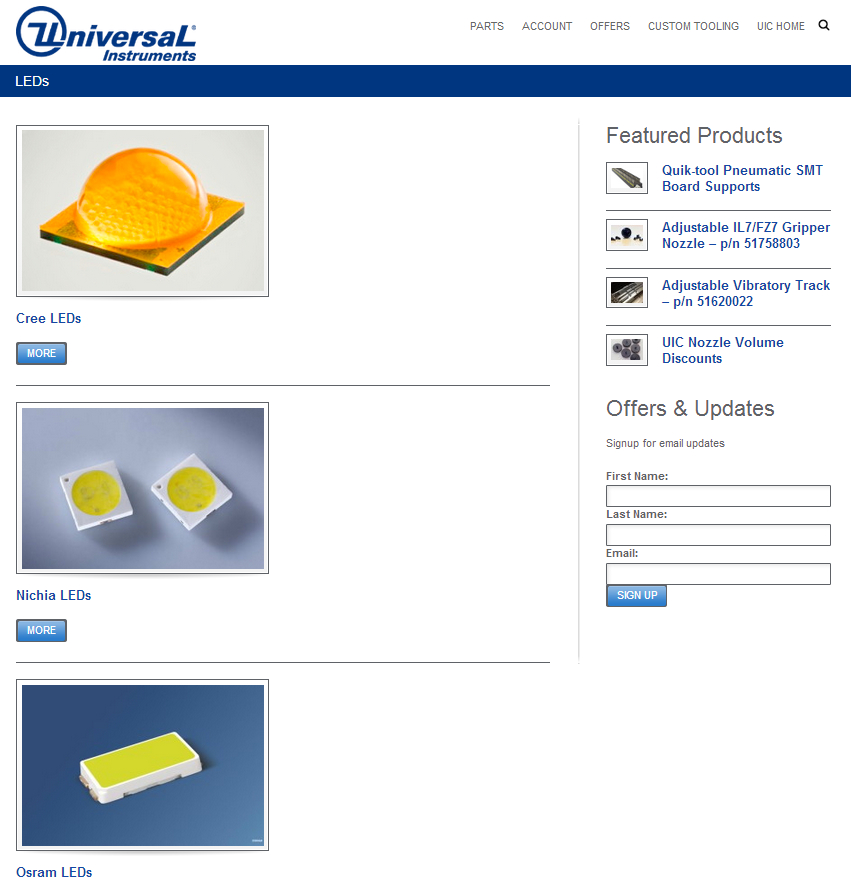 We have created a best practice document for customers to learn more about silicone-encapsulated LEDs and our LED pick and place solutions. Dependent upon an LED's physical characteristics, one or several pieces of the solutions will be required. For Universal Instruments' solution information specific to many popular LEDs (Cree LEDs, Nichia LEDs, Osram LEDs, Philips/Luxeon LEDs & Sharp LEDs), please go to http://parts.uic.com/parts/surface-mount-parts/nozzles-uic-nozzle/browse-by-component/custom-components/led/.
No matter if you are new to this market segment or an industry expert; we hope you extract a lot of value from this customer-focused document.
Click HERE to download our LED Best Practice PDF in either English or Chinese. For more information or access to our LED pages, go to http://parts.uic.com/complete-led-solution/ or submit a request for information/quotation at http://parts.uic.com/uic-custom-tooling-request/.