September 12, 2014 – The LED came into existence in 1962 thanks to Mr. Nick Holonyak Jr. This is perfect timing considering the printed circuit was invented in 1958. LEDs have continued a solid advancement in "Technology Gains" and "where used" since then and can be seen todayin automotive applications, traffic signals, signage, street and parking lot lights, building exteriors, remote controls, and large area displays. Moreover,there is a growing movement to yield its benefits across the broader spectrum of general lighting. Revenues of commercial use in the Automobile, Office, Computing, TV, Mobile Devices Signs and General Illumination can be seen in Table 1.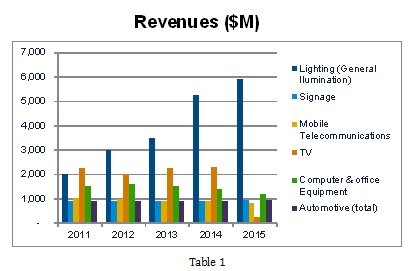 General Illumination is clearly the market that is showing the best signs for growth. This growth, coupled with a global initiative to ban incandescent and in some cases halogen light bulbs, brings a wonderful demand for LED Illumination products. While different bulb sizes have been addressed, the one that presents the greatest high-volume opportunity is T8 – the 4ft tube. The T8 tube will bring a series of challenges and changes to the assembly line as we all know it. Changes in printing, placement, reflow and AOI will be required, driving the need for innovative equipment designs. Manufacturers that embrace these changes in order to build LED products at high speed and with high yield will have a competitive advantage.
Universal Instruments has been working with customers in the LED industry for many years. It is the only electronics assembly equipment manufacturer that can provide both SM and IM high-speed solutions with dedicated and flexible configurations for LED applications, with custom automation solutions to complete final assembly.
When addressing the need of T8 design, it was necessary to provide customers with a machine that could accommodate a 1.2 meter board design. The demonstrated performance of the machine must be as good as or better than the general Surface Mount components machine; and manufacturers should be able to achieve the same speed, accuracy and efficiency as with standard component applications. The ability to deliver a high-speed solution with customer-specific tooling is what manufacturers are asking for.
Universal Instruments' response to T8 comes from its Advantis family of platforms. The platform was designed for cost-efficient performance with the flexibility to adapt to market changes. The Advantis AC-60 LED re-defines the standards of mid-tier assembly solutions by providing the world's fastest LED placement solution. It is a dual-beam platform equipped with two 30-spindle Lightning placement heads. This configuration maximizes throughput for standard 1.2 meter LED lamps, which are typically grouped in arrays of 30 or 60 placements. The AC-60 LED features specific enablers for LED applications, including specialized long board kits to support boards up to 1.3 meters long and a portfolio of LED nozzles that utilize soft compliant tips when contacting the LED globe, or pick LEDs without contacting the globe.
The Advantis AC-60 LED also delivers exclusive investment protection with high-performance capabilities for both LED and Surface Mount applications without reconfiguration. The AC-60 LED boasts the largest component range of any LED placement solution, including a full array of LEDs and 01005 passives through 30mm square Surface Mount components. Its rotary Lightning head design utilizes the same head orientation as for standard Surface Mount applications, whereas alternative LED platform offerings rotate inline heads 90°. It also retains full feeder capacity to run a variety of products, versus alternatives which lose 50% of feeder capacity by removing one bank.
It allows the manufacturers to go after the T8 lighting business and also addresses other LED products such as bulbs, driver assemblies, etc. A re-deployable asset that, when combined with Universal's Advantis AI-07, can place virtually every component. This unrivaled component range ensures consistently outstanding performance, even with a significant change in customer portfolio.
For more information regarding the Advantis Family of Platforms, go to https://www.uic.com/solutions/surface-mount/advantis-platform/.