August 20, 2015 – Industry 4.0 is the new buzzword. Everyone is talking about it, having visions of a promising future built around technology and connectivity. But do we really know what it is and what first step to take towards that better future?
The term 'Industry 4.0' has a German label, having been initiated in Germany with the future of the manufacturing industry in mind. The concept is based on three primary elements: Cyber-Physical Systems, the Internet of Things and the Internet of Services. It promotes the computerization of manufacturing and facilitates the vision of the Smart Factory.
What is the Smart Factory like then? Picture this… One day in the future you feel like buying a new car, so you place your order via a mobile APP by entering product description and specifications. The factory receives your order and turns all your "requirements" into data, according to which the smart system checks availability of material and capability of machines, then arranges logistics and schedules production. Can you imagine that? You ordered a car, customized with your own personal preferences, and it was built without the intervention of a single human! The entire process was also integrated with factory scheduling and inventory levels.
Of the three technological concepts that constitute Industry 4.0 enablers, CPS (Cyber-Physical System) is the core. CPS is a system of collaborating computational elements controlling physical processes with feedback loops where the physical processes and computations are interdependent. They are a contemporary iteration of embedded systems in which computers and software are embedded in devices whose primary objective is not computation, such as cars, toys, medical devices, and scientific instruments. The notion is closely tied to concepts of robotics and sensor networks with intelligence mechanisms at the level of computational intelligence leading the pathway.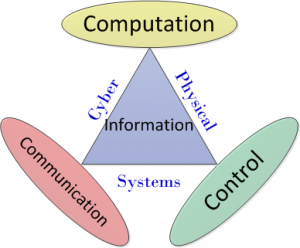 CPS combines physical processes with software and networking as an integrated whole to create feedback systems that are intelligent, real-time, adaptive and predictive, and can be networked and/or distributed. The extensive potential of these systems spans a full range of markets, including Communication, Consumer, Energy, Infrastructure, Health Care, Manufacturing, Military, Robotics and Transportation. With progressive advancements in science and engineering, the adaptability, autonomy, efficiency, functionality, reliability, safety and usability of cyber-physical system will be dramatically improved.
Germany's manufacturing industry is one of the most competitive in the world. It holds the leading position in the field of equipment manufacturing, largely due to a focus on scientific and technological innovation. As such, industrial automation becomes one of the most important prerequisites for Germany to launch Industry 4.0 and CPS lies in the core. Through the integration of information network and CPS, Germany is determined to change the current model of industrial production and service, so as to emerge as the creator and supplier of advanced intelligent manufacturing technology.
There is, however, one major hurdle: In cyber-physical system, digital technology and industrial products must both excel to guarantee success. Yet digital technology is not Germany's strong suit.
In the US, the concept of "Industry 4.0" is very often replaced by "Industrial Internet": an initiative of General Electric (GE), which joined with AT&T, Cisco, IBM and Intel, set up the nonprofit Industrial Internet Consortium (IIC). The Industrial Internet aims to bring together today's myriad of machines, facilities, fleets, networks, and the more recent powerful advances in computing, information and communication systems. The IIC was formed to accelerate the development, adoption and wide-spread use of interconnected machines and devices and intelligent analytics.
Clearly, unlike Germany that places its focus on hardware/manufacturing, the US stands by software/service; which makes sense, as the US has an outstanding Internet industry/economy. The essence of Industrial Internet is the combination of Big Data analytics with the Internet of Things.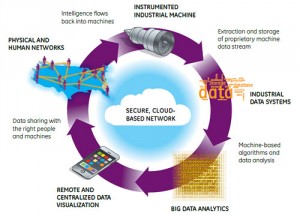 Image source: <Industrial Internet: Pushing the Boundariesof Minds and Machines> by GE
But what is Big Data analytics? Take the huge amount of data – gathered by sensors on equipment and data collection mechanisms – which is available to companies in almost every industrial sector. Then take more data from the Internet of Things, which could be data about materials, products, factories, supply chains, etc. Next use the growing technology capabilities in the area of analytics to mine and analyze that big chunk of data for insights, which facilitates equipment monitoring/management.
The above described process represents the Industrial Internet, the integration of the physical and digital worlds. It enables companies to use sensors, software, machine-to-machine learning and other technologies to gather and analyze data from physical objects or other large data streams, and then use those analyses to manage operations and in some cases to offer new, value-added services. Industries' competitive landscapes could be dramatically altered, thanks to Big Data analytics.
In summary, while Industry 4.0 singles out embedded systems, automation and robotics, the Industrial Internet is concerned with anything that can be connected to the internet, provide data as feedback and increase our efficiency. Industry 4.0 is more of a theoretical description of a vision of future manufacturing, while the Industrial Internet is firmly embedded in things as they exist today while seeking to solve interoperability and security challenges for the future.
Be that as it may, both concepts, as of today, have no standards. For Industry 4.0, machines in the Smart Factory all need to be able to speak the same language. For Industrial Internet, a general blueprint needs to be established so that machines from different companies can communicate with each other and data can be shared. Industry 4.0 and Industrial Internet, they are not competitors, they complement each other.
Next week we will talk about "Where we are on the way to Industry 4.0", stay tuned.