[section background_repeat="repeat" background_position="center top" background_attachment="static" background_scroll="none"]
January 6, 2015 – Imagine for example, combining active die components, WLCSPs, uBGAs and passive SMDs with its interconnecting media such as solder paste and flux into a substrate. It will require series of processes that could consume certain length of time and multiple equipment utilization before it can be completed.
What if after the assembly of the prototype, the product exhibited electrical failure due to material problem or because of poor assembly, another cycle of evaluation run ensued until it achieved acceptable result. Hence, the NPI will take time and could spell success if the prototype making is shorter and shows good performance result or failure if the product time-to-market became too long due repeated problem. This paper is going to present the simplification of assembly by reducing the multiple component attachment, by combining different types of component into one assembly cell and reducing assembly failure due to trial and error assembly scheme.
Concept to Realization
I want more functions:
Listen to music
Watch video
Play games
Read email
Use as map
Etc…
What should I do:
New design concept
New product development
New product introduction
New process development
Qualify materials
Prototypes
Assembly & Test
What do I need:
ICs with more functions
Powerful processors
Smaller size components
High performance components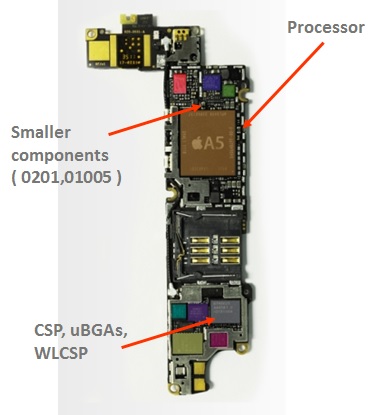 [tube]https://www.youtube.com/watch?v=zC0Maeko5N4[/tube]
Discussion
Established NPI process is essential to the development of new packages and products. Hereinafter is a breakdown of its benefits, the reason of its complexity and its challenges.
Benefits of having NPI
It enables to establish common ideas, understanding and objectives
It helps organize the tasks, exposes challenges and limitations, defines targets and responsibilities and set milestones
It provides management visibility and tracks progress of activities
Complexity
Usually driven by research & development group but involves multiple departments and task groups
Requires cross-functional team from R&D, Engineering, Production, Quality and Purchasing and Logistics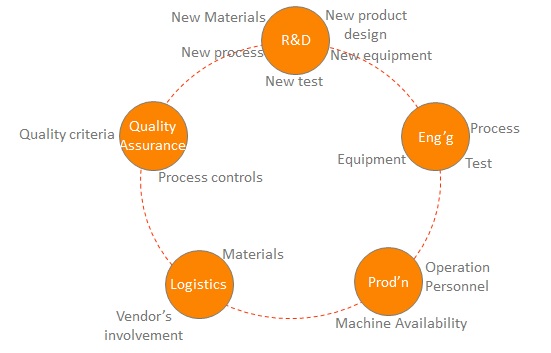 Challenges
People have different ideas and motivations. People itself are complex enough.
Procedures and steps are tedious and complicated
Sample making and prototyping equipment are not always readily available
Making It Simple
As in any process and operation, making the NPI procedure as simple as possible is a desirable prospect. So here are the underlying factors that can be considered when efforts are required to be implemented.
Personnel
Assign a project manager who will define the scope of work, assign resources and coordinate activities among the CFT
Do not change it over the period of the project. Allow all the people involve to have the necessary time to focus and concentrate to fulfill the targets as well as minimize overloading of assignment
System and Procedures
Use a known and effective system built within the organization
Supplement it with available NPI management tools (PACE, Stage-Gate, PTC PDS, etc)
Equipment – here is the thing when it gets more challenging. Prior exploring how to simplify NPI in terms of machine side, there are things that can be considered to be critical.
Note: Most of the time, First Article Build (FAB) is the critical point.
Why FAB is the Critical Point
This is where and when the actual assembly is going to be done
Equipment for sample build is not always available
Different type of component may require different machine
First set up always takes a lot of time
This is where the waste mostly occurred because of trial and error
Low yield is always expected on the first batches of sample
Concept of NPI Solutions
Having one Pick and Place platform machine that can handle various types of component attach with NPI software is our solution….Because powerful NPI solutions accelerate production.
This is the cycle of NPI process: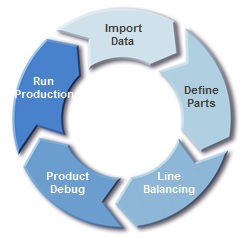 The steps in NPI solutions are presented in the below process flow: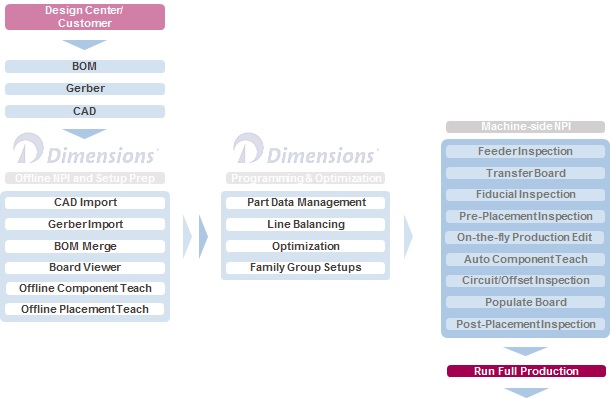 Aspects of NPI Solution
Machine-side NPI: Achieve a production ready first pass yield
Dynamic Production Editing means no tape boards required – no waste
Simple, menu-driven process for new users
Get products into production quickly, efficiently, and effectively
Create and tune feeder, placement, fiducial, and component information quickly and easily
Debug placement problems
Reduce scrap and repair costs

NPI Tools
NPI tools Setup Mode (during small batch builds)
Sequential process for complete board build
Tools can be utilized for specific feeders, components, ref IDs, or for ALL
Feeder Inspection and edit
Automatic feeder type identification and pick point adjustment
Pitch check, pocket center, component orientation, index speeds
Fiducial inspect and edit
Size, shape, lighting/contrast
Circuit offset inspection and correction
Pre- placement inspection
Manual solder paste inspection (volume and alignment)
Graphical Component overlay- Pad matching
Rotation
No need for a taped board
Post Placement Inspection
Manual AOI validation for part presence, orientation, etc
On the Fly Production Edit (during volume board builds)
Further Feeder Adjustments- Pocket Center, Orientation
Additional Component Adjustments- Lead count, pitch- Lighting- Auto teach- Masking tools available for more complex devices
Wide Range of Application
This NPI software solution is being applied to wide range of application. Among others are presented below: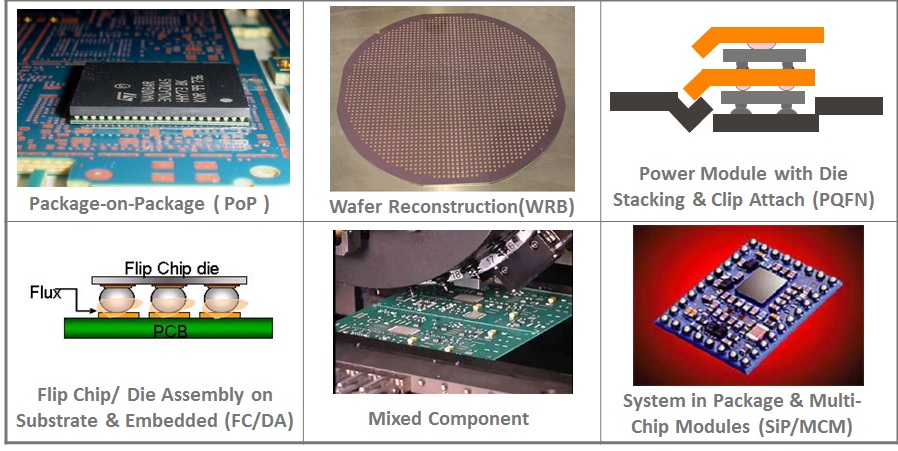 These products are consisting of the following components:
Dies – Flip Chip and Bare Die
Passives ( 01005, 0201, 0402,etc )
CSPs, BGAs, SOIC, PoPs ( Leaded and Bump Components )
Odd form components ( Shield, Tall Inductors, Connectors )
Also, substrate handling capability covers almost every known substrate in the market such as laminate, ceramic, leadframe, flexible circuit board, metal wafer carrier, carrier trays, etc.
Another important factor in start up assembly is the availability of various feeding solution and it was also address here by having the capability to handle tape and reel, trays such as JEDEC and waffle, tube, strip and wafer or die feeder.
Conclusion
Each company has its own approach and capability when it comes to implementing the NPI. In a manner of giving recommendation, the following guidelines are presented below.
If you have an effective way of doing it right now, do not change it.
However, if your current NPI process is at mess, try to start organizing it and streamlining it.
If the company puts important weight on it and provides budget for it, avail of the tools and equipment available in the market.
If building prototyping and NPI line is too costly for you, outsource it.
For more information about Universal Instruments' Advanced Packaging solutions, visit https://www.uic.com/solutions/markets/advanced-packaging/ or contact Adi Merschon (+1-408-205-6555/ Adi.Merschon@uic.com). For more information on Fuzion platform, visit https://www.uic.com/solutions/surface-mount/fuzion-platform/ or contact Paul Shih (+1 607-759-8283/ paul.shih@uic.com).
[/section]