WHAT IF. . . Failure is NOT an OPTION?
---
Your response to production or field failures is critical to your business. Reacting swiftly, decisively and fairly secures your reputation and resolves issues that will otherwise destroy profitability. But to achieve it, you must locate and rectify the root cause immediately.
So, who can you turn to when your mission-critical product is having issues, resulting in lost profitability?  Read on to learn more . . .
---
When you are working with the most advanced components, leading-edge materials, techniques, and cost sensitive assemblies, you need access to specialized tools to look beneath the surface of chip scale components, solder joints, circuit boards, and associated materials. You also need special skills to manipulate those tools, as well as the expertise across many disciplines, to correctly interpret the results.
---
Does this sound overwhelming?
Don't worry because our APL Advanced Process Lab has you covered!
Take the fastest and most cost effective route to the failure data you need with our Failure Analysis services.  We have already invested in specialized, precision analysis tools, and have access to leading field experts whose collective knowledge covers the full-range of today's packaging and assembly technologies.
---
The APL has developed critical manufacturing processes for all component families. We have built a fundamental understanding of material interactions and environmental effects. And we actively participate in product development and design activities. Our experience positions us to deliver failure analysis that adds real value to your business:
Rectify the root cause of the defect

Increase production yield

Improve field reliability

Provide evidence to support product liability cases or vendor returns

Deliver rapid return on investment (ROI)
---
Also our extensive analysis and characterization equipment means no avenues are closed in the search for information to solve even the most obscure causes of failure:
Specialist cross-sectioning equipment

High resolution x-ray, optical and compositional analysis

Scanning Electron Microscopy and Energy Dispersive X-Ray Analysis

Incident and transmitted light microscopy

Mechanical strength testing (materials, solder joints)

Precision non-contact measurement equipment

Solder joint performance and material wettability analysis

Environmental testing chamber

---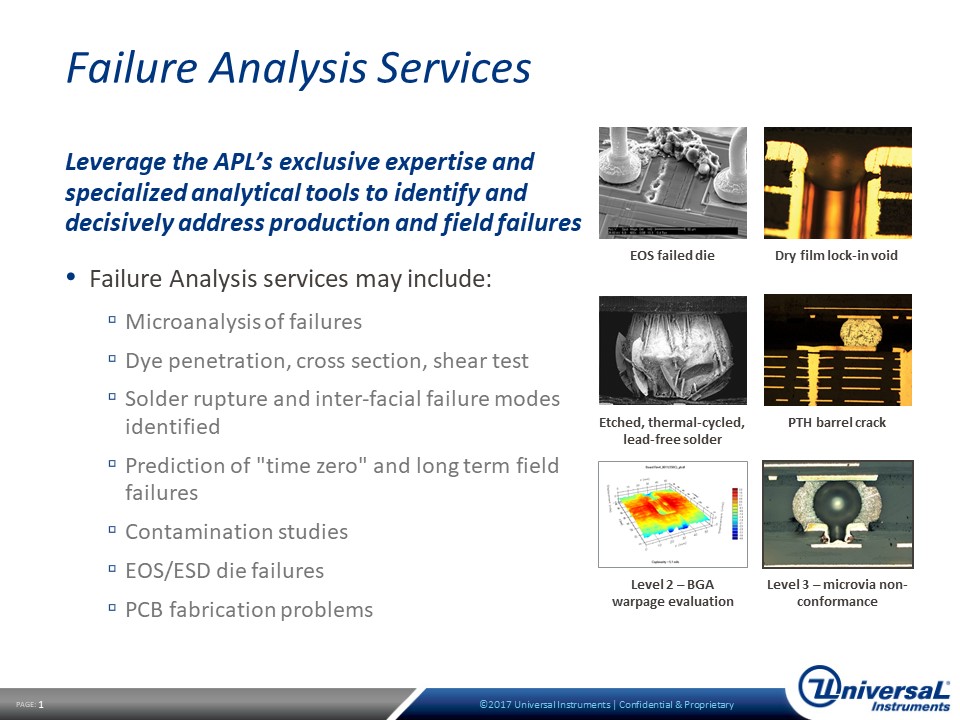 ---
When failure is not an option, reach out to the APL to quickly rectify and get the information you need to resolve your issues, enhance performance and profitability. . .
Click here to learn more,  or contact Dave Vicari, Director, APL  via e-mail at vicari@uic.com
or by phone at +1.607.779.5151.
---