Today's wearables are more Chic than Geek; and deliver amazing functionality in elegant packages.  How do they impact our lives and what technology drives them? Read on to learn more. . .
---
Today's wearable technology is ubiquitous and you likely either use it yourself, or know someone that uses it every day.  Wearable technology has been seamlessly integrated into, and improves and simplifies, our lives in a myriad of ways . . .
The technology driving your wearable is complex and constantly changing with technology enablers like 5G networks now coming online.  Building a wearable with flexible hybrid electronics poses its own unique set of  challenges.
---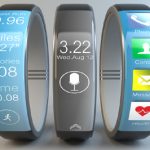 What is a Wearable?
A wearable device is a technology that is worn on the human body which includes powerful sensors that can collect and deliver information about its surroundings in real-time.
W
earable devices are often used for tracking a user's vital signs or pieces of data related to health and fitness, location or even biofeedback. These devices may rely on short-range wireless systems such as Bluetooth or local Wi-Fi setups and almost all are compatible with iOS and Android mobile systems; allowing for easy and automatic sharing of data.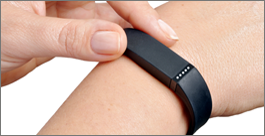 Examples of wearable devices include various types of computerized watches such as the Apple Watch®, and fitness or activity tracking devices such as Fitbit®. Some issues around wearable devices include privacy (GPS tracking concerns), the extent to which they change social interactions (because people are on their devices, instead of with . . . people), how users look when wearing them (think AirPod® antennas sticking out of someone's ears) and various issues with user-friendly design.
With advances in technology, there are going to be more and more wearable devices coming onto the market;  clothing, workout gear, jewelry, etc.   The wearable market is one of today's hottest markets and is expected to reach 300% of its current size within the next 3 years! Now, that's a lot of wearables. . . 
---

A Day in the Life: Wearable Technology
It's 6am you arise with the sun to go for your morning run.  Your wearable device (i.e. Fitbit®) also awakes and prepares to track your activity. (Actually it's never gone to sleep, instead it's been *tracking your sleep quality in detail including measuring the time you spent in each stage of sleep.) You head out the door on your run and your device  starts measuring the number of steps you walk, your heart rate, how many calories you are burning . . . Depending on the type of device, it may also have acted as your entertainment on the run, allowing you to stream music or a favorite podcast from the cloud. .  Oh, and of course, notified you of any text messages or alerts for your upcoming 8 am meeting. 
* Fun Fact: The method that fitness trackers utilize to track sleep is called actigraphy. Fitness trackers ability to measure sleep often comes from sensors called accelerometers, which detect a wearer's motion, along with the speed and direction of that motion.
---
Before you sit down for your 1st cup of coffee (which you may have used your wearable to pay for), your device has sent your data directly to your smartphone or personal computer.   After eating breakfast, you enter what you ate into one of the various food tracking apps, which automatically calculates how many calories, carbs., fats, etc. you have consumed and then syncs this information with your level of activity. At the end of the day, this makes it very easy to see calories in vs. calories out. This type of tracking has a lot of potential to change the ways that people monitor their health and fitness, because it provides you with real-time data and helps to encourage accountability; such as notifications when you're sitting too much, or consuming too many calories.
---

Now, let's say after your breakfast (and a shower, hopefully), you dress for work and put your Apple Watch® on your wrist.  This device has so much computing power and functionality in it, that it's like strapping your laptop computer to your wrist (not literally though).  On your walk from your house to your car, you read and respond to your text messages using the built in Siri voice-driven assistant, you also check the weather and your schedule for the day.  The watch (let's say it's the latest generation version) automatically pairs with your car, allowing you to make calls and/or check your voicemail and respond to key e-mails. You feel like listening to your favorite artist, so you tell the watch to play that song, and then give you directions to a new location, enabling the GPS tracker and voice assisted directions.   Upon arrival at your meeting, you check and respond to text messages, answer e-mails and oh yeah, since it really is actually a watch, check the time before you head in the door.   At the meeting, you use the watch to transcribe notes for follow up.
---
At the end of the day, you may be tired, but your wearable devices are not!  They've been busy all day tracking your: activity, sleep, food intake, heart-rate, offering up entertainment options, allowing you to quickly and easily respond to messages, providing you with directions, and much more. . .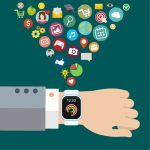 Today's wearables have changed how people live, work and play! Wearable manufacturers are already leveraging advances in voice technology, biometrics, and communications to make future wearables smarter and smarter.   We can only imagine what the next generation of wearables will be able to do. . .
---

What's in your Wearable:
You can't build a wearable today without the use of Flexible Hybrid Electronics; essentially different types of flexible PCBs, made from different materials, that can flex and bend to conform to specific shapes.  FHE gives everyday products the power of silicon ICs by combining them with new and unique printing processes and new materials. The result: lightweight, low-cost, flexible, conformable, stretchable, and highly efficient smart products with innumerable uses for consumer (wearables), commercial, and military applications.

Wearables are typically so small and thin that the interconnects for these products must be made without the use of connectors. Traditional production techniques for these devices – burdened with manual assembly – are far too slow and inefficient to meet the aggressive demands of this growing market.
---
These products bring significant assembly and process challenges such as:
Hot bar bonding-  A means of applying pressure and heat for attaching flex circuits to PCBs, ceramics, glass, and other flex circuits.  Some of the challenges include: the need for both automation and speed, handling of heat-sensitive parts, need to eliminate additional re-flow processes.

2.5D and 3D IC advanced packaging assembly – The integration of several electronic devices inside a single package by assembling them side-by-side on a shared base.  The base, an interposer, provides connectivity. Some of the challenges include:  need for specialized vision/imaging, ultra-fine pitches, requirement for high-accuracy die and passive placement and more. 
---
Universal is uniquely positioned to help you take on your next wearables product challenge:
We offer fully-automated, flexible, high-throughput, integrated hot bar solutions delivering complete process automation for flux transfer, high-accuracy placement and hot bar soldering.

FuzionSC™: Highest accuracy, high-speed, highly flexible platform

Flexbond™: The first and only high-volume hot bar bonding platform
We have years of advanced process experience enabling highly reliable fine-pitch die placement on flex circuits
Our portfolio includes specialized tooling for: flex circuit handling, under-board heating, heated nozzles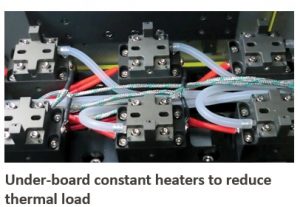 We offer aysymetric heating options for temperature-sensitive components with our Area Selective Laser; a prototype high-tech laser used for selective reflow enabling the assembly of circuit & sensor elements 
See video clip below, showing asymmetric heating and bonding applications:
Our industry-leading Advanced Process Lab (APL) has 30+ years of experience implementing manufacturing processes for new and emerging technologies, and offers a full range of solutions from product design, prototyping, NPI and ramp-to-volume.
---
Building a Wearable?  Reach out and let us know how we can help!
We have the winning combination of solutions to deliver success with your current or future wearable project!