Do  you need to place Weird, Strange or UNIQUE parts, or have parts that are currently being placed by hand? Then our Custom Applications Tooling Group has got you covered . . We help our customers solve their component placement challenges by providing automation solutions for a large percentage of hand-placed components, improving quality and reducing cost!
---
Effective Solutions for any Odd-Form Application!
Universal has the experience and manufacturing flexibility (including a state-of-the-art 3D printer for quick prototyping) to develop custom engineered solutions to satisfy your individual requirements. With over 30 years of experience, we have the professional expertise to solve your pick-and-place issues! This would include special nozzles and grippers and other tooling options for LEDs, micro components (0201/01005), connectors, switches, push buttons, pins, clips, heavy, oversized, and more. . . There is no limit to our capabilities when it comes to automating your custom component processes.   Bring us your most challenging part and we'll build and design the right tooling to place or automate it!
---
What do we offer?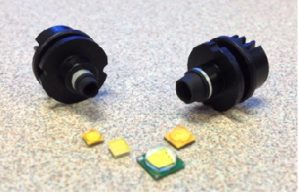 LED Tooling
Cree, Philips Lumileds, Osram, Nichia, Samsung, Seoul Semiconductor and more . . .
---
Custom & Adjustable  Nozzles, Grippers
For for placement of LEDs, Pin-Through-Hole, Press Fit, Connectors and more. . .



Check out our custom-designed Gripper in action below, as it picks and places a large Molex connector.
---
Adjustable & Dedicated Track Feeders
Vibratory Track Adjustable & Odd-Form Feeders+
  
---
Board Supports
 Support pins, plates, etc. +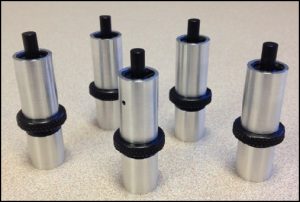 ---
Nozzle Removal Tools
70/93 Hole Nozzle Removers & Nozzle Cleaning Solutions +


---
Are you still utilizing manual assembly in your manufacturing process?   If so, we can help you move towards automation with a variety of solutions.
Below is a case study on how we delivered a solution to a customer's assembly challenge. This application was quoted by multiple vendors and we were the only one that could handle the unique requirements of this connector! 
Meet Bullwinkle – who is both a Moose and the name of this connector assembly.  I'm sure you can see why!

---
This connector challenge was brought to us by a global Automotive company. They were assembling a power-steering module connector by hand. Teams of laborers were hand-assembling the 4 separate pieces of this connector and then attaching it into the board.  This was not an efficient or accurate way to assembly this connector.  They needed to automate this process. 
---
Challenges:
There were 4 separate pieces of the connector which needed to be assembled and then inserted into pins pre-drilled on the board.
The parts which, arrived in a matrix tray feeder from their vendor, were sitting at different orientations; this presented a feeding challenge.
Solution:
Here is the  solution we delivered:
We designed a special nozzle and gripper to reliably pick the connector pieces from the matrix tray, including:
2 bus bars

A pin-through-hole component

A large connector that snapped into the ends of the board to hold the connector module in place

Bullwinkle Connector with custom gripper head
This custom gripper also provided strain relief in the critical areas and specifically the clips at the end of the large connector which required 10lbs+ of force to tightly snap it into place.
We also modified the machine software to handle and pick the different parts orientation at 0 and 180 degrees, so the customer could utilize their existing matrix tray and vendor.
This multi step odd-form solution quickly and accurately assembled the connector pieces together and delivered a completed assembly.
---
Click here to see videos of our Bullwinkle solution in action!
---
Results:
This unique solution allowed our customer to efficiently switch from manual to automated assembly; significantly improved their accuracy and increased their output by 4x+.   It also allowed them to utilize the labor that was dedicated to this assembly in other areas of their factory.  Talk about a Win-Win situation!
---
Like what we did? 
We can help YOU automate your manual assembly processes.
Have weird, strange parts you need to place.  No problem. We love a challenge.
Reach out and let us know how we can help today!
---