November 3, 2014 – Universal Instruments' AREA Consortium has linked meetings with the IPC PERM Council this time around to encourage synergistic research opportunities between the two organizations.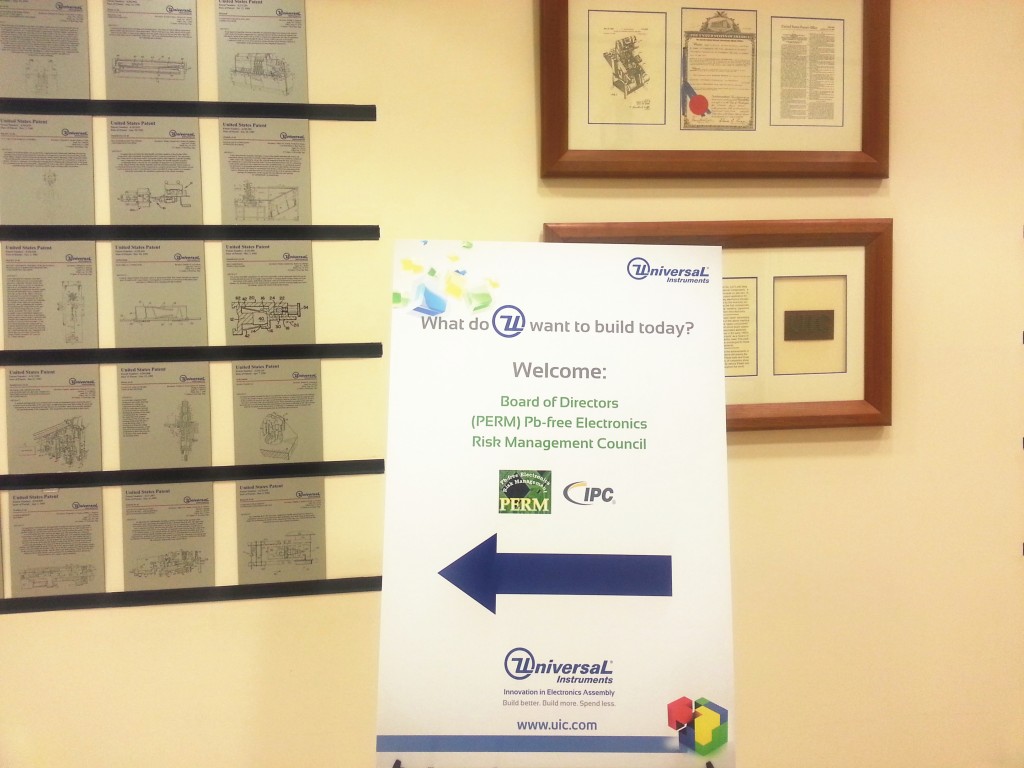 PERM members that will participate in this joint meeting include: Airbus Group Innovations, Airbus Helicopters, BAE Systems, Boeing – Integrated Defense Systems, Celestica, European Space Agency, Honeywell International, Indium Corporation of America, Lockheed Martin Missile & Fire Control, U.S. Army Aviation & Missile Command, etc.
Some highlights of the 3-day meeting:
AVSI Update for the In-Service Reliability Project (ISRP) (Joe Juarez, Honeywell)
A Lead Free Qualification Program – Can we Prove if Lead Free Alloys meet the Military Reliability Needs? (Terry Munson, Foresite)
Nanoparticle Enhanced Conformal Coating Lead Coverage Evaluation (Stephan Meschter, BAE Systems)
Ag-sintered Paste as Pb-free Die Attach Material (H. Schoeller, Universal Instruments)
Isothermal Shear Fatigue of Microalloyed Pb-free Solders (F. Mukutu, Universal Instruments)
Drop Shock Reliability of Various Pb-free Alloys (B. Arfaei, Universal Instruments)
Effect PCB Surface Finish and Solder Volume on Thermal Fatigue Performance of Pb-free and SnPb Solder Alloys (B. Arfaei, Universal Instruments)
GEIA-STD-0005-1 (D. Burdick, Boeing)
GEIA-HB-0005-1 (D. Kaspari, Rockwell Collins)
GEIA-STD-0006 (D. Tyler, Corfin)
Click here to review AREA Consortium's missions.
About Pb-Free Electronics Risk Management (PERM) Council:
(http://www.ipc.org/ContentPage.aspx?pageid=PERM-Council/ http://www.ipc.org/ContentPage.aspx?pageid=PERM-Council-Roster)
IPC's PERM council is an organization of mission critical electronics manufacturers, whose product is currently outside the scope of the EU RoHS directive, tasked with identifying risks of regulatory driven material changes in their products and promoting research to address them.
The goal of PERM is to provide overarching leadership and coordination of government and industry Pb-free electronics risk management activities to leverage the commercial supply chain for the aerospace, defense and high performance electronics communities.