Ever wonder how we consistently provide great customer service for equipment acceptances and delivery?
Read on to learn more about how Universal "lifts" itself above the competition to prepare our systems to our customer's exact delivery specifications, and well as ship equipment to all parts of the globe using planes, trains, automobiles and yes, ships too!
---
Providing customers with a solution that fits their needs is second nature to Universal and we do that each and every day.  However; sometimes our customers come to us with complex applications which require  unique custom-solutions.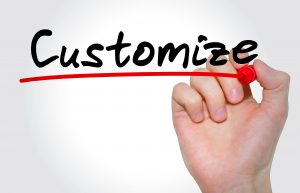 These complex applications sometimes require Universal to engineer and tweak our standard machines to fit their need. This may include creation of specialized software, hardware, integration of additional machine peripherals or even 3rd party equipment.
---
How do we prove to the customer that our custom-designed solution fulfills their application needs?
Well, this is generally done via a factory site acceptance; although we can also conduct acceptances directly at the customer's factory. Click here, on this link to learn about it
---
What's involved in a customer acceptance?
It all begins with a meeting of the minds to create a Statement-of-Work, commonly referred to as an SOW. We then confer with our customer to reach agreed upon terms for initial and final acceptance tests.  The parameters of these test are laid out in very specific detail, which we are required to meet.
---
These acceptance tests ensure our customers have in hand exactly what they need, the moment they receive their equipment and start to run production.  Acceptance testing can occur over the course of a day, or up to a week depending on the complexity of the system.  Once the acceptance tests are complete,  and the customer is satisfied (although we prefer delighted), sign-offs are done by both parties, and the machine is cleared to move on to the next step.
---
On to the last step in the process!
After sign off, the preliminary packaging (securing the covers, placing vapor corrosion inhibitor paper inside, etc.) is done on the manufacturing floor. The equipment is then moved by forklift into the staging zone on top of a skid. Now the machine is ready to be packed or crated if it's going overseas.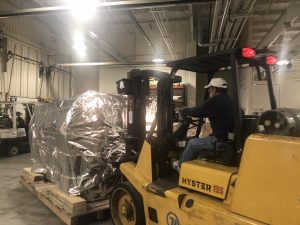 ---
Packaging for a Purpose!
Below is a time lapse glimpse into the crating process for an Insertion Mount machine. Other types of machines are packaged differently.
The steps in the crating process are as follow:
Machine is loaded onto a skid with Tyvek sheets

 A brace is built with hardwood (all hardwood used is heat treated for insect prevention) and foam to ensure machine stability on the skid

Equipment is layered with vapor corrosion inhibitor paper

A separate Tyvek sheet is pulled over to cover the machine

Tyvek sheets are closed off with a heat gun and the air is suctioned out of the package

Holes are drilled in the skid and banding is inserted to secure the equipment to the skid

 Pressboard is put up to form the walls of the crate, top sheet is secured to form the top of the crate
---
Once the machine is packed, all documentation (invoice, packing lists, shipper's letter of instruction, and bill of lading) is created and provided to the freight forwarders. Customers have the choice to select their own carrier or elect for Universal's preferred freight forwarder, Kayla Logistics, to handle the shipment for them.

We have a highly-qualified logistics management team with Strader Ferris that has experience moving  and shipping equipment all around the globe.
We know what's required; from packing, shipping, paperwork, installation and start up, we can do it all for you, and/or work alongside your existing team.  We strictly follow U.S. and International shipping laws during all steps in the shipping process; avoiding delays and issues with customs clearance and movement across borders.
---
And this is how Universal gets SHIP done!