October 25, 2014 – "There is no such thing as an ESD-safe machine without an ESD-safe nozzle."
Universal Instruments was a pioneer in ESD-safe (Electrostatic Discharge) machinery and tooling, so when an opportunity to validate this investment presented itself… we took it. We surveyed over 10,000 customers and asked "How important is ESD to your operation?" Here's what they said…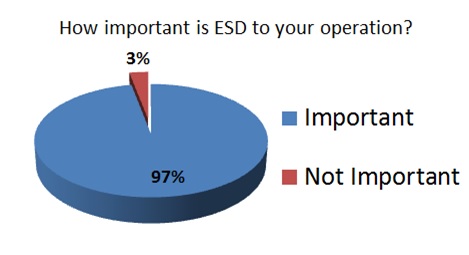 As you might expect, almost all survey respondents said that ESD was important to their operation. What was more interesting, however, was that 67% of respondents said that they used 100% ESD-safe nozzles in their operation.
The simple fact is there is no such thing as an ESD-safe pick and place machine without an ESD-safe nozzle. So what constitutes an ESD-safe nozzle? Universal Instruments maintains tight tolerances on the electrostatic discharge properties of its nozzles and our spec for surface resistivity (ESD rating) is between 10 to the 4th power ohms and 10 to the 8th power ohms (Ω).
What's more interesting is that only nozzles designed and made by Universal show these ESD-safe properties and fall within an acceptable surface resistivity range. In fact, any UIC equipment nozzles made by 3rd parties have tested outside this range or have shown zero ESD-safe properties.
For more information, go to http://parts.uic.com/.