Using a poor SMT nozzle cleaning process or improper cleaning agent result in unsatisfactory pick and place performance, shorter nozzle lifespan and increased operating expense. Universal Instruments just launched our nozzle cleaning solution to ensure peak nozzle performance and lifespan.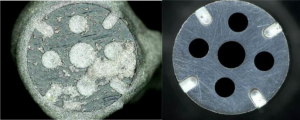 July 10, 2014 – One of the most critical steps to a robust SMT process is having clean nozzles. Contaminated nozzles can lead to miss-picks, skewed placements and even missing components. Universal Instruments has developed a vital process to keep nozzles clean. Following this process, while maintaining a proper cleaning schedule, will keep the nozzles performing at an optimal level and maximize their longevity.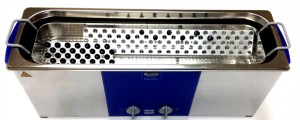 Many customers still clean their nozzles with Isopropyl Alcohol or with a cleaner that contains alcohol. Using alcohol on the nozzle will dry out the nozzle tip and destroy the glue holding the part together. This will increase costs to the customer by having to replace nozzles more frequently than necessary. This can also lead to a degradation of nozzle performance and lead to nozzle errors, until the nozzle is replaced.
Universal Instruments recognized the need for a standardized and effective SMT nozzle cleaning process and created the SMT nozzle cleaning solution. This solution includes a custom-formulated cleaning compound, called UIC Nozzle Clean, an ultrasonic cleaner, quick-change nozzle removal tools and more. Not only will this new application effectively clean your SMT nozzles and maximize their lifespan, but our free Best Practice document will also show you how to complete a nozzle cleaning in less than 20 minutes.