Are you a manufacturer struggling with how to build a new product from scratch?
Do you have an existing product and want to build it better and faster?
Do you have a product or a process that is broken and need to fix it quickly?
Are you experiencing an unexpected ramp and/or small lot prototype requirement?
Are today's newest manufacturing processes or materials daunting and confusing?
---
Well, the good news is that Universal's Advanced Process Lab (APL) can help you solve all of these challenges.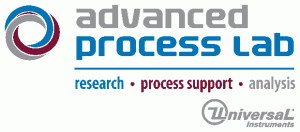 ---
What does the APL do and how it can help me build better?
To help you understand what the APL does, let's use the example of a lollipop (which can either be a printed circuit board, a product or even a process).  And let's use a fictitious customer called Sweetmart – a high-end retailer of lollipops.  Sweetmart has just contracted you to build lollipops for them.   What can the APL do to help you in these various situations below?
---
Build a Lollipop from Scratch
You just received an order from Sweetmart for 1,000 lollipops but you don't know how to build them. Sure you know that lollipops are made from sugar and oil, but how exactly do you build this lollipop? Where do you start?  What kind of equipment will you need?
The APL team can help you by providing the complete "recipe" for building your lollipop.  They can recommend the right ingredients,  correct temperature and the process to assemble the final lollipop.  And, the APL can even recommend what equipment  you'll need to build your lollipop. By following this "recipe for success", you'll be making lollipops in no time!
---
Build Lollipops Better & Faster
Sweetmart has increased their lollipop order from 1,000 to 2,000 lollipops a month; and also asked you to reduce your delivered cost to them.  Reducing your cost, means building faster and more efficiently.  So how do you increase your lollipop production volumes and reduce costs to meet this customer demand?
The APL team can help speed up your lollipop production by reviewing your manufacturing process and making recommendations on how to improve efficiency.
For example, let's say the bottleneck in your process is that the candy is hardening too quickly before you can get the stick set. This causes breakage and also requires several steps to complete.
In this situation, the APL might recommend that you prefab the lollipop form with a channel for the stick. Since the stick and candy are set at the same time it would eliminate the breakage and speed up the process. By eliminating bottlenecks and doing things more efficiently you'll be able to increase production, reduce costs and meet your order!
---
Build lots of Lollipops, or Just a Few
It's fall, and Sweetmart has increased its lollipop order to 10,000 lollipops, which they need in 4 weeks' time in order to meet the holiday rush. You don't want to disappoint your customer and say no (and you would really like this additional revenue), but there is no way your factory can ramp this quickly. What do you do?
---
Well the APL's ATAS (Advanced Technology Assembly Services) team can handle your extra-capacity demand with a factory full of the right equipment, and the expertise needed to manufacture and deliver as many lollipops as you need – when you need them! Got too many lollipops to deliver? You can lean on the APL as a partner for all of your short-term demand manufacturing needs.
---
Let's say that Sweetmart wants a small run of a new flavor of lollipop to test in certain markets. It's not cost-effective to invest in specialized equipment, or to tie up part of your factory to build this small lot.
The APL's ATAS team can help with your prototyping needs and can manufacture just the right amount of lollipops to fulfill your customer's small lot and/or other specialized requests.
---
Your Lollipop has Issues
Sweetmart's customers are reporting lollipop breakage in the field and getting complaints that the lollipops taste bad.  Sweetmart is not happy about this and are ready to cancel their order. How can you fix this?
The APL's team of experts can quickly figure out exactly why your lollipop is breaking and tasting bad. Through a failure analysis process they can determine the root cause of the problem. They can use their high-tech equipment to evaluate the chemical make-up of the sugar, view the bonds of the sugar molecules under a high-powered microscope, as well as perform other tests, such as high-temperature materials or drop testing.
The combination of the above will allow the APL to quickly determine what went wrong with your lollipop and make recommendations on how to fix it. This may be something as simple as adjusting your oven baking time, or something much more serious such as contaminated sugar. (In this case, they can give you the ammunition you need to go after your sugar vendor to correct the problem.)
The final failure analysis report will allow you to assure Sweetmart that you know what the problems are, and to put a plan in place to immediately correct these issues.
---
There's a New Sugar in Town
Sweetmart has asked you to incorporate a new type of sugar called Sugarz  into your lollipop manufacturing process. Sugarz contains pheromones which draws people to the product and will supposedly entice them to buy more lollipops. You've never worked with Sugarz  and you're not sure how to incorporate this into your manufacturing process. What are the risks if you use too much Sugarz? Do you need any special type of equipment to work with this new type of sugar?
Lucky for you, the APL hosts an industry consortium made up of companies that study new sugars and other ingredients, and the processes required to work with them. This consortium undertakes research projects that can help you understand how to work with Sugarz,  including the risks and benefits of using it in your manufacturing process.
By becoming a member of the consortium, you'll have access to all of the information you'll need to integrate Sugarz  into your lollipop manufacturing process. You'll also take part in cutting-edge research into any new ingredients coming into the market. Joining the APL's consortium is a win-win for both you and your customer.
No matter where you are in your journey to build the best lollipop, the APL can make it sweet for you!
---
To recap:
The APL can help you build a lollipop from scratch by providing the recipe and process

Build your lollipops better & faster by having the APL evaluate your processes and eliminate bottlenecks

Lean on the APL as your partner for short-term demand. We can build lots of lollipops quickly or we can help with small lot prototyping needs

The APL's failure analysis process can tell you why your lollipop has issues and how to fix them, as well as protect you against vendors delivering poor quality ingredients

Joining the APL's Consortium can give you access to research on how to integrate and use new ingredients in your lollipop manufacturing process