[two_fifth valign="top" animation="none"]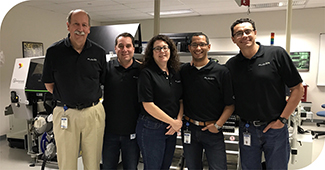 [/two_fifth]
[three_fifth_last valign="middle" animation="none"]
We offer a selection of courses at varying levels to suit your specific requirements. These courses have been designed for maximum training efficiency in an intimate environment. Level 1 courses are limited to six students and Level 2 courses are limited to four students.
Level 1 Classes: Include Operations, Programming and Maintenance. Level 1 objectives focused on activities performed within the warranty period (preventative).
Level 2 Classes: Include Electrical, Mechanical and Software Troubleshooting. These are three separate Level 2 classes focusing on objectives and activities performed after the warranty period (corrective). We recommend that students have 3–6 months "on-the-job" experience after receiving Level 1 training before enrolling in Level 2. While Level 1 is really a prerequisite for Level 2, experience does count. If you can independently perform 80+% of Level 1 tasks, then Level 2 is for you. We recommend all Level 2 training be delivered in our "controlled environment" Conklin, NY Training Center. These are "Debug it/Fix it" classes, simulating machine-down situations, and are best performed here so as not to disrupt your manufacturing production.
[space value="20″]
[/space]
Contact Training directly for specific inquiries.
[/three_fifth_last]
[space value="-35″]
[/space]
[divider style="none"]
[/divider]
[space value="-10″]
[/space]
Live Training Links
[space value="7″]
[/space]
[space value="20″]
[/space]
ShareThis