[two_fifth valign="top" animation="none"]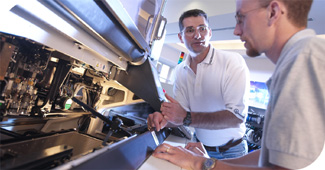 [/two_fifth]
[three_fifth_last valign="top" animation="none"]
During the standard warranty period operation of your Universal equipment, we'll provide exactly what you need when you need it. Our standard service offerings include access to advanced technical support and knowledge resources. Regular process/performance audits and applications support ensure maximum productivity.
Process Development and Design – Including new technology implementation, advanced process development, material selection, process parameters, board and component design, prototype build, and complete turnkey solutions.
Site Support – Including diagnostics and repair, regular audits, applications support, machine enhancements, and technical support.
Technical Support – Including free 8 x 5 telephone / email support for active products, premium 24 x 7 support, knowledge 24 x 7 at myUniversal, software downloads, and second-user equipment support.
Block Service – Provides a reserve of support time (blocks) at scaled discount rates to use for virtually any service requirement. A flexible, convenient and responsive option.
[space value="20″]
[/space]
[/three_fifth_last]