[two_fifth valign="top" animation="none"]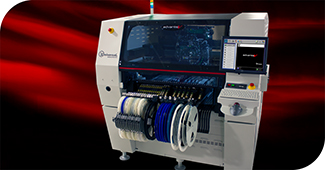 [/two_fifth]
[three_fifth_last valign="middle" animation="none"]
AdvantisV™ leverages high-end base technologies and easily integrated premium options to deliver cost-effective, value-driven productivity in low-margin environments. This versatility, coupled with a robust architecture with minimal maintenance requirements, provides investment protection and a low cost of ownership. AdvantisV incorporates a highly accurate architecture and closed-loop controls for superior yields. It also generates exceptional and consistent output across a range of environments from NPI to volume production. AdvantisV has all the functionality to meet today's challenges, with a growth path for tomorrow's.
1 and 2-beam variants utilizing flagship Fuzion base architecture
Throughput up to 66,500 cph per module
Complementary high-speed and multifunction models
Minimal entry price and initial investment
Simplified base configurations, easily integrated options
Premium options, including advanced NPI toolbox
Broadest component range and board size capabilities
Class-leading performance and technologies for long usable life
Low cost of ownership with minimal maintenance requirements
[space value="20″]
[/space]
[/three_fifth_last]
[space value="-5″]
[/space]
[toggle title="AdvantisV Models & Specifications" state="off" style="solid" icon="info-sign"]
AdvantisV1-07 – A versatile IC placement platform, perfect for special processes such as pin-in-paste and OFA
AdvantisV1-30 – Superb for high-mix NPI environments and large board applications. Also a high-volume line booster solution.
Advantisv2-60 – Flexible, high-speed productivity for medium-volume environments. Also a powerful line booster solution or high-performance small part placer.
[uic-tbl id=41][/uic-tbl]
[/toggle]
[divider style="none"]
[/divider]
[space value="-10″]
[/space]
Downloads & Resources
[space value="7″]
[/space]
[space value="20″]
[/space]
ShareThis