[two_fifth valign="top" animation="none"]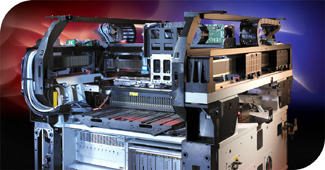 [space value="125″]
[/space]

[/two_fifth]
[three_fifth_last valign="middle" animation="none"]
When considering the purchase of used equipment, several factors relating to vendor performance should be evaluated. The purchaser should consider the warranty, spare parts availability, installation, training, factory support, machine documentation, upgrades, and technical support. Universal-Certified remanufactured equipment from Broome Engineering provides several advantages over used equipment brokers, including:
Full quality assurance process guarantees machine performance against original specifications
Machines upgraded to latest revision levels possible

Fully supported by Universal Instruments infrastructure

Remanufactured using original equipment manufacturer's parts and processes

Reduced downtime risk with remanufactured machine versus a used machine

Optional customer acceptance at factory prior to delivery and payment

Limited parts and labor warranty included with machine
The Remanufacturing Process:
Machines are torn down to frames and castings, discarding virtually every wearable part
Frames and covers are professionally cleaned and painted
Machine is re-assembled and upgraded with original parts and latest software revision
Typical part replacements: tooling, chains, spindles, nozzles, bearings, belts, clutches, cameras
Full quality assurance process that parallels a new machine ensures the performance meets or exceeds original specifications. The machine is then qualified as Universal-Certified.
[space value="20″]
[/space]
[/three_fifth_last]
[space value="-5″]
[/space]
[toggle title="Remanufactured vs. Used Comparison" state="off" style="solid" icon="info-sign"]
[uic-tbl id=12][/uic-tbl]
[/toggle]
[divider style="none"]
[/divider]
[space value="10″]
[/space]
ShareThis