What does it take to build our beautiful flagship Fuzion™ platform from start to finish?
Fun fact: In a typical year we build around 150+ Fuzion platforms duplicating this exact process below.  That's a completed machine every 2.4 days.  Now that's a lot of BUILDING!
---
Before we talk about how we build these high-tech beauties,  here's a few amazing facts about the capabilities of this platform; specifically the  head technology and the vision system.
Below is a representation of a 01005 component (0.016″ x 0.08″) – last component on the right.
It's about this size of a grain of sand and a teaspoon full holds around 200,000 of these small components.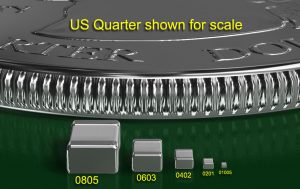 ---
Our Lightning head can place 30,000+ of these sand-size (01005)  components per hour (cph) on a Printed Circuit Board (PCB). On a quad-beam Fuzion4-120 model (which includes (4) Lightning heads), that's 120,000+ cph.  Now that's fast – lightning fast, hence the name!
---
Below is a picture of DDR4 DIMM connectors, otherwise know as memory modules.  These components go into server boards; enabling the world be be connected and share data in real-time! 

Each one is about the length of the distance between your thumb and index finder if you could stretch them fully parallel. They are used for computer memory and storage. These connectors have very tiny, very delicate, tightly packed pins (about 288 pins per module) that need to be accurately inserted directly into pre-drilled  holes on the board. This technology is called pin-through-hole (PTH) – think a pin going through a hole and you get the idea.
---
Our FuzionOF platform – with its superior vision system- can inspect 100 % of these tiny pins, including the both inner and outer pin arrays  before they are placed.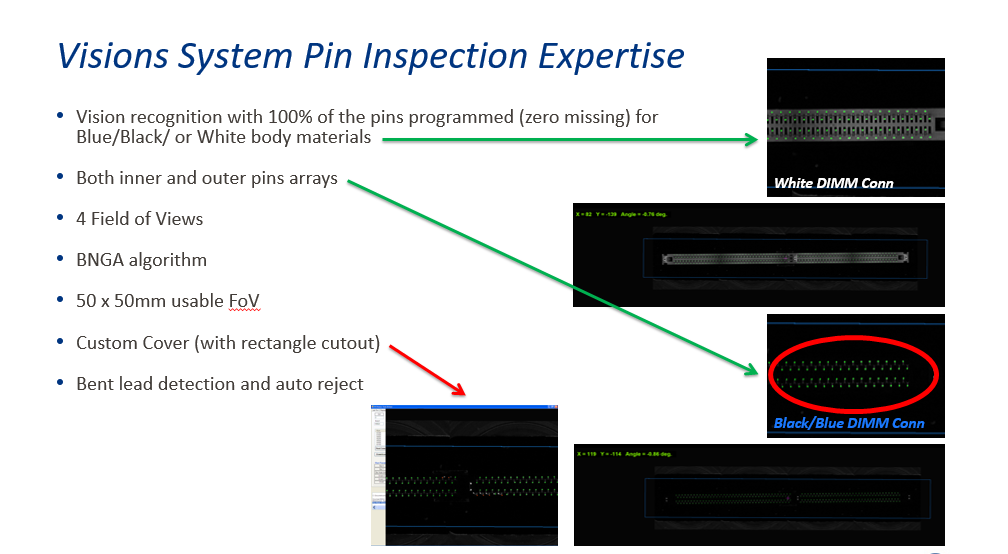 This pre-inspection provides the means for very accurate and high-speed placement of DIMM connectors. Check out the video below. 
---
Ready. Set. Build 
Now that we've talked about some of the technology the Fuzion platform delivers, let's learn about how they are built.

It all starts with the unique solid steel base frame which is precision machined to within 1µm from corner-to-corner for extreme accuracy. 
This robust steel foundation enables accurate and repeatable performance to handle the dynamic loads generated by the Fuzion high-speed positioning system.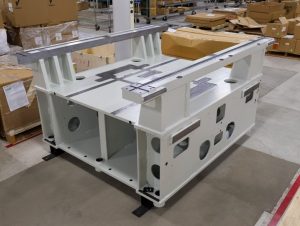 At this step in the process, our Master Craftsmen
(and Women) builders perform the following steps:
Level the frame
Install board handling
Mount Y-bearings
---
As we continue along the process, all throughout our state-of-the-art manufacturing floor, sub-assemblies are created to be incorporated into the frame and to construct the  VRM Linear Motor positioning system, once the build reaches this critical step.
These assemblies include:
X-axis Beam
X-Y PSC Harness System
VSC Chassis
Feeder Interface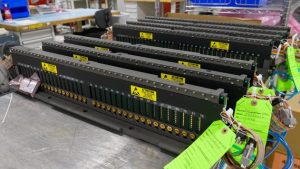 ---
The next step is to construct our Variable Reluctance Motor (VRM) Linear Motor Positioning System.  This high-accuracy, closed-loop positioning control system has some very unique features:
Thermally stable, non-magnetic
Fewer moving parts for minimal maintenance/no adjustments
Dual-drive control is self correcting and reduces settle times
20-year lineage – thousands of VRM systems in the field today
---
Continuing the assembly process, X-axis beams, feeder interfaces, board handling system are installed on the machine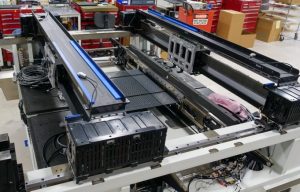 Frame is then lifted for the following to be installed
Cable harness
VME chassis
---
The frame is lowered, and then removed, from the lift to allow for portions of the machine to be configured to the customer's order
The machine then goes on a secondary lift for the X-Y PSC assembly and the cover package to be installed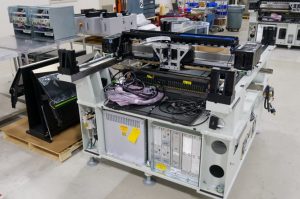 Peripherals such as the monitor, light tower, keyboard and mouse are added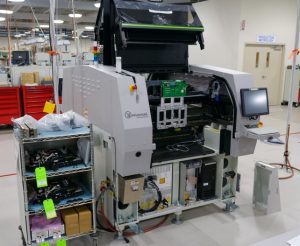 ---
All of our placement heads (typically referred to FZ30 or FZ7)  are built and independently tested offline prior to integration with equipment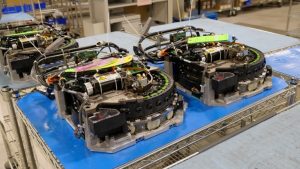 After the placement heads are built, they are mounted to bench head test systems that  is running the same software as the machine. 
This allows all functions and critical parameters to be validated prior to integration with the customer's specific machine configuration!
---
Final Assembly & Quality Acceptance
At this stage in the process, the robotics technicians and master craftsman builders configure the final configuration of the machine to the customer's exact order by performing installation of:
Pre-qualified and tested heads, cameras, software, user interfaces, feeder banks, etc.
At this stage in the process, the machine is set up for a series of rigid quality acceptance tests.  The total time in final assembly is 7-15 days depending on the exact machine configuration

Some of the tests performed here, include:
4-6 days of calibration testing, consisting of glass slug accuracy runs, live component runs, and dry-cycle time
Accuracy is verified using machine measurement information system (MMI) as well as tests performed at our on-site Metrology Lab
The VIEW Precis is a high-accuracy micro-metrology system which combines precision stages, microscope optics and world class metrology software to deliver sub-micron field-of-view and point-to-point measurement accuracy on features as small as 65 um.
After the machine has met all of our rigorous quality acceptance tests,  builders perform the pre/post power-down process and prep machine for shipping.
---
Shipping & Logistics
The machines are then packed for the appropriate type of transport; either truck, air, sea.  At the same time,  our logistics department is working hard on the processing of the paperwork to allow for interrupted shipping and delivery, no matter where in the world the machine's final destination is!
Here are a few of the steps in the packing & crating process:
A brace is built with hardwood and foam to ensure machine stability

Equipment is layered with Vapor Corrosion Inhibitor Paper

Separate Tyvek sheet is pulled over the machine and all sheets are then closed off with a heat gun and air is suctioned out of the package

Machines are banded to the skid

Pressboard is put up to form the walls of the crate

Crate is moved to docking area and ready for pickup
Check out the video below to watch a machine being crated.
---
And that is how the fusion of  Engineering and Art come together to build our beautiful and powerful Fuzion™ platforms.  Want us to build one for you?