[two_fifth valign="top" animation="none"]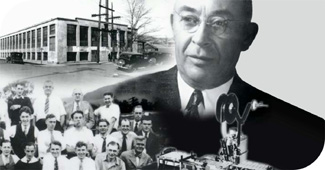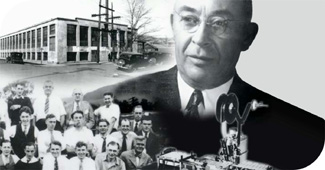 [/two_fifth]
[three_fifth_last valign="top" animation="none"]
Universal Instruments traces its roots to the Universal Instruments and Metal Company, a safety pin manufacturer founded in 1919. Through time, the company discontinued safety pin production and made a transition to a machining and tool and die business. By controlling costs during the Great Depression, Universal Instruments continued to grow through World War II, when the company's tool and die talents were pressed to meet the needs of the state's small arms manufacturers. This work continued until the 1950s, when Universal Instruments entered the electronics assembly equipment manufacturing industry.
Universal Instruments first built electronic circuit assembly equipment for through-hole components in the 1960s. For nearly three decades Universal Instruments flourishes by the production of axial, radial, and DIP insertion equipment. In 1993 Universal Instruments acquired Dynapert through-hole assembly machine business that opened the Southeast Asian markets. Enhancements in the through-hole world continue to this day, and Universal Instruments holds nearly half of the global through-hole market.
The global electronics industry burgeoned with the transition from through-hole to surface mount components. In the early 1990′s Universal Instruments developed a modular platform-based surface mount technology machine – the GSM Platform. With an installed base of over five thousand machines, Universal's GSM quickly became the industry standard in the flexible fine pitch arena.
Today, Universal's core products include a comprehensive surface mount platform portfolio delivering best-in-class performance and value for any budget or production environment; leading-edge advanced semiconductor packaging solutions for a fast-evolving technology landscape; a through-hole lineup that is the industry standard for productivity and reliability; flexible automation cells for odd-form or light mechanical and back-end assembly; line software to manage manufacturing activities and deliver true control over manufacturing profitability; and industry-leading support and services worldwide to help our customers build better, build more, and spend less.
[/three_fifth_last]